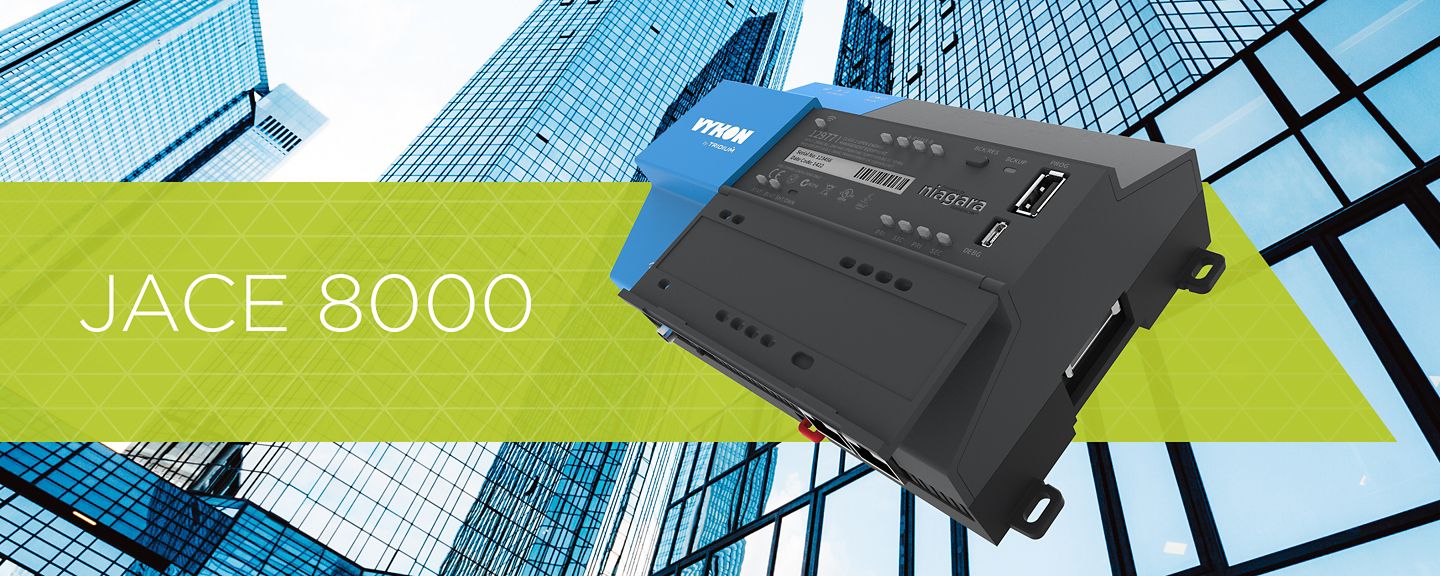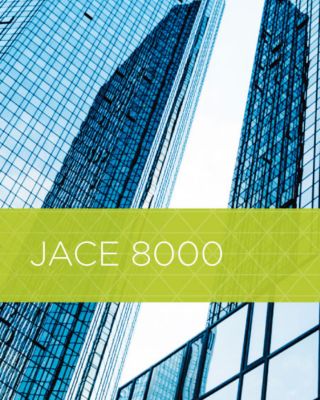 JACE 8000 Controller
The engine that drives the world's most powerful open framework
The JACE 8000 controller is an all-new hardware platform optimized for Niagara 4. This "next generation" controller features a new global design that functions with legacy systems and has the ability to scale for future needs.
JACE 8000 Key Features
Powerful Niagara 4 hardware platform with easy software upgrade capability
Modular hardware design for fast and easy installation
Tool-less installation
Expandable with up to four option modules
Native Wi-Fi capability
24VAC/DC—standard global power supply
Standard open drivers included
Easy to select the right capacity license
Intuitive user interface
JACE 8000 Enhancements
OPTIMIZED FOR NIAGARA 4
The JACE 8000 controller leverages the exciting new features of Niagara 4. It adds to the enhanced user experience, maximizing Niagara 4's key advantages: pure Web interface based on HTML5 with HTML5 views, charting and data visualization, a common design language, better reporting, robust security and improved device management.
EFFICIENT GLOBAL DESIGN
The new, modular design of the JACE 8000 controller makes it easy to install, integrate and deploy. Tool-less installation with expansion capability reduces installation complexity and improves quality. Systems integrators can focus on engineering solutions, not assembling components. And their lives will be simplified with a global power supply and improved access to standard enclosures.
WIRELESS CAPABILITY
Standard Wi-Fi offers enhanced wireless capability when interfacing with the next generation of wireless sensors and devices. The JACE 8000 controller also is configurable as an access point so that mobile phones and tablets can display information and advanced graphics. Expansion is available when interfacing with other wireless fieldbuses seen in connected buildings.
Speak to a Niagara Expert
JACE 8000 Resources
JACE 8000 IO R Controller
Monitor, Control, Schedule & Analyze Your Building Assets Like Never Before
Supported by Niagara 4.3, the IO R enhances the JACE 8000 by providing a direct connection to simple sensor and device inputs and outputs remotely located up to 4,000 feet (1,200 metres) away. It's design simplicity, technical sophistication and more, in both a 16 and 34 point module.
NDIO-to-NRIO conversion has been updated for easy migration of your existing system, and there are now programmable default states for analog and digital outputs. Improve your system by connecting the IO R with your sensors, devices and assets, and create intelligence.
JACE 8000 IO R Resources